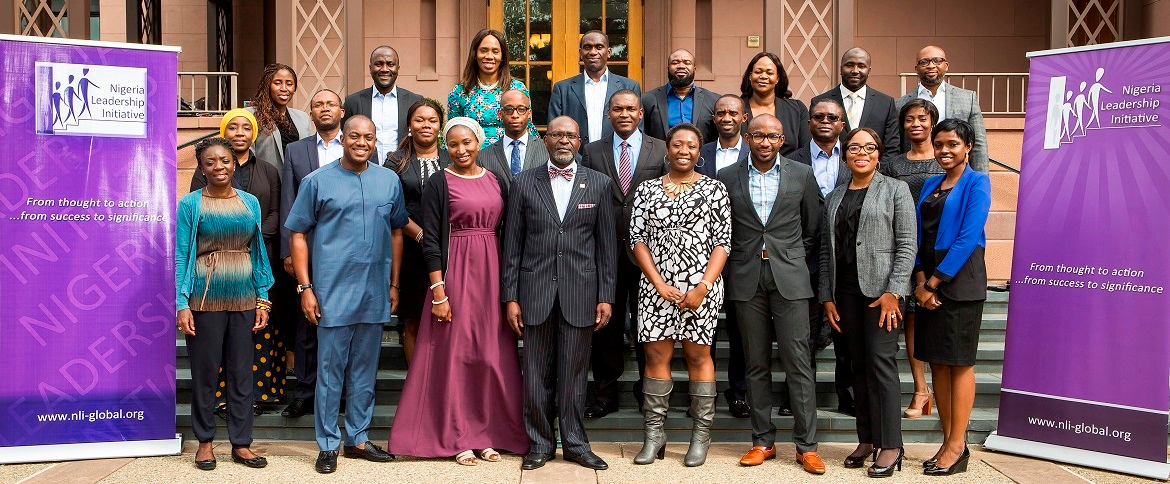 NLI's mission "is to create a growing, global network of credible, accomplished community-spirited Nigerian leaders, committed to taking responsibility for driving positive change in Nigeria and Nigerian communities." Consistent with this mission, the NLI network further increased the number of accomplished leaders with the induction of twenty two new Fellows into its Fellows Program. The NLI Fellows Program was created to fill the vacuum that exists between the NLI Associate Fellows (Emerging leaders) and Senior Fellows (Accomplished Leaders).The NLI Fellows are regarded as 'Rising leaders.'
The pioneer NLI Fellows Seminar was launched in October, 2014 in partnership with Yale University. It is a program specially designed for outstanding Nigerians who are at an inflection point in their lives and are influencers in key leadership positions. The seminar is essentially a collaborative journey and with the help of the experienced moderators, each participant contributes his or her own reflections, experience, and knowledge to the seminar modules.
The major objectives of the seminar are;
To deepen the leadership learning of the participants
To challenge the participants on how to create impact for a good Nigerian society
To move the participants from Success to Significance
To encourage the participants to move from thought to action through a high impact class project.
Certain key criterions guide the selection of NLI fellows. The participants must be influencers in key leadership positions aged between 36 to 45 years old, with prior record of occupying supervisory positions; they must be passionate about moving Nigeria forward through volunteer experience and/or mentoring efforts. Other factors considered include diversity, gender, profession, industry and sector and geography. Through the Fellows Seminar, NLI is able to grow a critical mass of values-based leaders who are guided by values and driven by character for the eventual transformation of Nigeria.
The 2nd Fellows seminar took place from September 27 through October 2, 2015 at the Yale University, New Haven, Connecticut. The seminar comprised of a cohort of twenty two accomplished individuals from diverse sectors such as consulting, banking, public service, business, entertainment, media, legal, civil society, and telecommunications. At the end of the seminar, the newly inducted Fellows are poised to go back to their roles with more tenacity and enablement to thrive under uncertainty, ready to create high impact in the society, to enhance personal and professional growth and to achieve key competencies necessary to boost performance.
The seminar modules are on: values; leadership; innovation; and impact. Designed as an intensive and interactive program, the Seminar will be led by world-class moderators who are in two categories: Yale Professors provided cutting-edge theory and knowledge while challenging conventional thinking; and, practitioners who have solved real-life complex issues and challenges through work experience. With a seminar flow of an intersection of theory and application, the Fellows equally benefited from a rich discussion among peers thereby enriching individual perspectives from public and private sectors as well as the civil society.
The basis of NLI's Fellows Program is to inspire inductees to be comfortable in their leadership role and thrive under uncertainty. The dynamic nature of context and timing was the premise of several interrogations underlying the curriculum: what key capabilities, not lessons or courses, are required to continue a leadership journey while also providing tools for the Fellows to walk into their roles within the society and their respective organizations. As NLI Fellows, they were taken through the leadership journey of self-awareness, agility, and maturity as well as critical thinking, foresightedness, and negotiations. Given that the Fellows were at the inflection point of transitioning from functional leadership to a holistic and bigger-picture view of the society, they acquired new approaches of rallying people toward a common purpose.
After the Seminar, the participants unanimously reported that they were personally renewed, professionally refocused, and better prepared to continue their leadership journey while also walking into roles within the society and their organization.