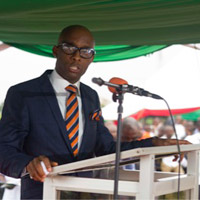 The NLI Factor In His Success
PERHAPS, one of the strongest debates today is how to break the unbalanced age mix of those saddled with public responsibilities. Unlike what obtains in the corporate world, not many young people have opportunity to understudy the older hands manning public offices.
Interestingly, such uncommon opportunities are hardly properly ultilised when they occasionally come. Hence, the older generations merely mock at the request for more chances while the youth are left with few success stories to push through their demand.
Still, there are a couple of outstanding youths in political and corporate circles whose track records are beginning to challenge the old order. By sheer determination to leave the society better than they meet it, they are making unusual impacts in their area of calling in different parts of the country. One person who belongs to this select group is the former Speaker of the Nigerian Youth Parliament, Onofiok Akpan Luke, who has embarked on mind-boggling initiatives in Akwa Ibom State.
Of Course, Luke must have benefitted immensely from the moral tutelage the Nigeria Leadership Initiative (NLI). As an associate of the initiative, he must have learn that political itself does not make a superman but the number of lives that have been touched as he walks through the passage of life. That singular philosophy is setting new frontier in Akwa Ibom.
The beauty of NLI, like its chief executive, Yinka Oyinlola, disclosed, over 320 fellows and associates of the Initiative are doing similar things across the country. And they are taught that accountability is the hallmark of responsibility; hence they go back to the people to render account of stewardship, albeit personal sense of success. That, Oyinlola said, distinguishes those who associate with NLI, including Luke.
Recently, the social media went virile with the allegation that Gov. Godswill Akpabio supervised an assault on Luke, who currently chairs Akwa Ibom House of Assembly Committee on Finance and Appropriations. The report, which Luke later denied as unfounded, said the lawmaker got into a trouble with the governor for his rare bravery to stand up against Akpabio in defence of his colleague, Victor Udofia. His effort speaks of the boldness Luke is made of, dating back to his days in the University of Uyo as President of the Students' Union Government.
In 2002, he rallied students to confront the management of the university, in a non-violent manner, in protest of increment of tuition fees and other unfriendly tendencies. The action would turn out to earn him a one-year rustication. His activities at the youth parliament, an organisation he molded as pioneer speaker, were also loaded with unusual courage.
Yet, his boldness for confronting issues that have potential for improving the ordinary man is just an aspect of Luke's DNA. In 2011, when he was elected to represent Nsit Ubium Constituency, Luke, unlike most parliamentarians, knew clearly the most pressing issues of his people – education, agriculture, health, environment and youth/social development. He weaved his legislative interests around the issues in line with his belief that the voice of a lawmaker is a mere megaphone of his constituency.
Two and half years into his tenure, he has sponsored five bills out of which two have been passed into law – the enabling law for the establishment of the Akwa Ibom State HIV/AIDs Control Agency and that of the amendment of Magistrate Courts Laws 2000 were sponsored by the lawyer. Also, a bill to guarantee the safety of construction workers in the state and a related one aimed at protecting the physically-challenged against discrimination sponsored by Luke are at various stages of legislation. Moved by the environmental hazards posed by mining and dredging activities in the coastal state, Luke also proposed a bill (which is undergoing legislative process) that will regulate the activities.
In many cases when a representative goes to the parliament, he is expected to be a legislator as well as a representative. When he performs one role exceptionally without doing the other creditably, a section of the society expresses reservations. But Luke does lawmaking very well, in the estimation of those he represents without leaving the other to suffer.
At his second legislative briefing held at Nsit Ubium Council Secretariat, he described lawmaking as a critical part of his debt to his people. And so accepted is he in his constituency that thousands defied heavy rainfall on the day of his account of stewardship held recently. His fame among the public comes not from the number of laws he has promoted but because he has touched the lives of others through his commitment to broad-based constituency projects.
Within the past two years, Luke has attracted a number of projects to the area. The nature of the projects clearly demonstrates his passion for socio-economic development of the society. Most of the projects executed in phases border on market development, education, water and feeder roads.
The lawmaker cherishes his job but does not believe legislative culture should be the exclusive of those who sit in hallowed chambers. He opts for democratisation of the processes leading to lawmaking. And his devotion to the development of legislative ideas is rooted in the belief that "the arm of law is the basic avenue from which other forms of human advocacies can derive real meaning."
This conviction led him to institute what is today known as The Onofiok Luke Legislative Internship Programme (TOLLIP), an initiative he instituted based on the values he learnt from NLI, a fold that nurtures future leaders.
TOLLIP provides opportunities to Akwa Ibom youths to learn basic legislative engagements through direct interaction with lawmakers. The interns, drawn from the three senatorial districts of Akwa Ibom, also receive training in community development, volunteerism, entrepreneurship, peace making/conflict resolution and talent hunting.
Luke understands community mobilisation. In the same breadth, he believes the brand of political leadership Africa needs is the one that pays attention to individual needs of the family units. Hence, he instituted a structure that is targeted at giving succour to the needy long ago and made it the soul theme of his campaign. The structure revolves round two schemes — the Constituency Transport Scheme (CTS) and the Seed Fund for Business Start-up (SFBS) — that are gradually mainstreaming into life in his senatorial district.
Recently, Luke would further prove that there are a few politicians who are still faithful to their promises. He gave out 10 brand-new Hyundai cars to members of the local government in promotion of the transport scheme while 170 individuals, including 10 physically-challenged, received N100, 000 each as business seed funds. Two different interest groups were also given two buses to facilitate their activities.
Earlier in its first phase, 40 people benefitted N50, 000 or N100, 000 each from SFBS. The donation came just as 11 other constituents were given brand-new Hyundai cars to help them earn decent living while easing transportation challenge in the local government.
Like every other politician, Luke may have eyes on a higher office. But his career comes behind the desire for a peaceful co-existence. As a mammoth crowd waited to hear his scorecard during the event, he shocked everyone when he announced a dramatic plan to reconcile warring factions in the ruling Peoples Democratic Party (PDP). He invited a cleric to take his vacated seat, which was flanked by former Secretary to the State Government (SSG) and Obong Umana Okon Umana and Effiong Bob, a one-time Senate member.
Amid the tensed moment, he urged the cleric, a professor, to hold the hands of the two prominent politicians (involved in a political dispute) in a symbolic manner and prayed for the peace of Nsit Ubium. He warned those who might impute political motives into the directive that he was only guided by the desire to see peace return to the area and that he would not mind sacrificing himself  "as the sacrificial lamb."
Other prominent politicians including the Akwa Ibom State PDP Chairman, Paul Ekpo, Speaker of the State House of Assembly, Sam Ikon and Nsit Ubium Council Chairman, Ekpedeme Akpan and several others who had split along political divides, forgot their differences in a moment and joined the solemn assembly. It turned out the political leaders agreed to bury their misunderstanding in order to work together for the common good of their countrymen.
Yes, his generosity endears him to many but more people would agree his simplicity and humility makes more of the better leader they see in Luke. His attitude and conduct at the event only reinforced the mystery surrounding how the lawmaker has been able to damn the influence of power and retain his simplicity. While it was raining, Luke moved around confirming arrangements while ushering his guests with his umbrella. Unlike typical politicians who would rather relate with people via aides, he mingled and danced freely with the physically challenged and other less privileged citizens of Nsit Ubium.
Born on March 16, 1978, Luke had both elementary and secondary education at his home state during which he nurtured the desire to contribute to the liberation of mankind from self-imposed oppression. The desire informed his choice to study law. His deep interest in humanity started during his days in the university when he took to campus unionism.
Those who know him understand that his craving only found expression in politics. And perhaps, the presence of labour union, religious bodies, opposition parties and several social organisations at his recent briefing speaks of the scope of Luke's genuine constituency.