Web Advert
In 2010, the Nigeria Leadership Initiative organised the Nigeria Word Slam Competition asking the young Nigerians to think about the importance of values and incorporate four (4) of them into their written piece.
The winner of the Wordslam Competition, Joyce Hanson (aka Miss Boss) recorded the theme song for NLI's StandUP Naija campaign with recording artiste, BOUQUI and Da Grin producer, Sossick.
Flyer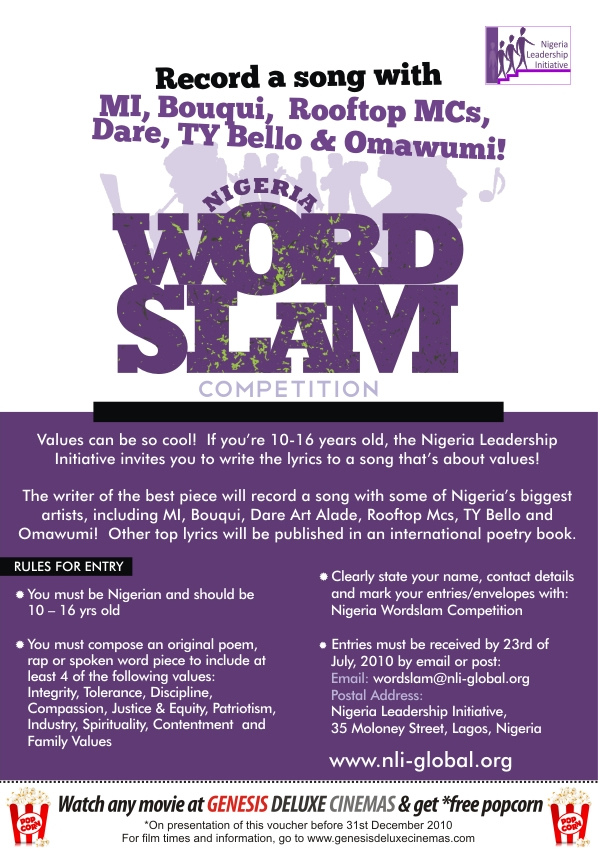 RULES FOR ENTRY
Entrants must be of Nigerian origin, aged 10 – 16
Entrants must compose an original poem, rap or spoken word piece to including at least 4 of the following key values:

Integrity
Tolerance
Discipline
Compassion
Justice & Equity
Patriotism
Industry
Spirituality
Contentment
Family values

Entries must be received by 23rd of July 2010.  Entries can be emailed or posted to the following addresses:

Email:

[email protected]

Postal Address: Nigeria Leadership Initiative, 35 Moloney Street,  Lagos, Nigeria

Entries should be clearly marked: Nigeria Wordslam Competition
TERMS AND CONDITIONS
Any entry received after 23rd of July 2010 will not be considered.
NLI reserves the right to use all entries as part of the Nigeria Word Slam Competition.  This may include posting the poem on the organisation's website, and in the production of the final song, music video and poetry book.  Where work is used, the writer will always be credited.
The Nigeria Leadership Initiative holds the right to choose the top pieces of work.
NLI reserves the copyright to all songs and materials produced for the Wordslam competition and StandUP Naija theme song.